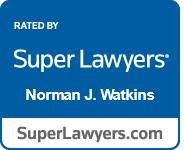 Mr. Watkins has tried over 125 cases to jury verdict in California, Pennsylvania, Michigan, Texas and Arizona. These trials have involved a wide variety of claims, including general torts, civil rights, police liability, trucking, insurance Bad Faith Litigation, and a variety of employment harassment and discrimination suits.
Mr. Watkins' trial experience includes many high-profile matters such as, Cohen v. Masry; Foley v. City of Coronado; Anderson, et al. v. County of Orange; and has taken several cases to the U.S. Supreme Court. In addition, Mr. Watkins successfully defended the Orange County District Attorney in a series of high-profile whistleblower cases. See, Jacobs v County of Orange, Los Angeles County Superior Court, Case No. 02CC01476; Jacobs v. County of Orange, United States District Court, Case No.SACV 01-677 GLT; OCAA v. County of Orange, Los Angeles County Superior Court, Case No. 02CC05089; and, Smith v. County of Orange. Most recently, Mr. Watkins successfully obtained a defense verdict for the Sheriff of Orange County following a lengthy bench trial in the matter of Anderson v. County of Orange, Orange County Superior Court Case No. 30-2010-00376368. The Anderson matter involved claims by top officials in the Sheriff's Department that they were wrongfully terminated under the Public Safety Officers Bill of Rights (POBRA).
Mr. Watkins has argued on over 50 appeals in state and federal courts on behalf of public entities. He has obtained many published opinions concerning important principles of law, including five appearances before the United States Supreme Court. See, Pennhurst State School and Hospital v. Halderman, 451 U.S. 1 (1981); O'Bannon v. Town Court Nursing Center, 447 U.S. 773 (1980); Secretary of Public Welfare, 442 U.S. 640 (1979); Beal v. Doe, 432 U.S. 439 (1977); Kremens v. Bartley, 431 U.S. 119 (1977).