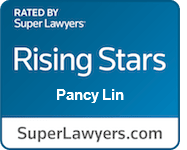 Ms. Pancy Lin joined Lynberg & Watkins in 2008 as an Associate, and was elevated to Partner in 2015 in recognition of her legal expertise, and dedication to the Firm's clients. Since joining the Firm, Ms. Lin has represented employers and public entities in defending against a variety of allegations, including employment litigation, civil rights, police liability, and general torts.
Ms. Lin is responsible for managing all aspects of active litigation files from pre-litigation investigation and negotiation, through trial, and post-trial appellate work. Ms. Lin has second-chaired numerous trials in State Superior Courts and Federal District Courts. Ms. Lin has also successfully defended cases and obtained dismissals of lawsuits via case dispositive motions. In addition to trial work, Ms. Lin also handles appeals in state and federal appellate courts, including arguing before the Ninth Circuit Court of Appeals.
Ms. Lin obtained her law degree from University of San Diego, and double majored in Economics and Asian American Studies at UCLA.